Other Ways We Can Help You
Hedge Pruning
If you have an over-grown hedge of any size we can get them into shape. By reducing the height, width or just clipping we will create a neat and tidy form.
Planting
From one specimen tree or a whole woodland, we offer a comprehensive planting service. Tim George Tree Sercies can assist you with selection, advise upon suitability of species for soil conditions and location and supply and plant trees of all sizes.
We also make all arrangements for ceremonial plantings, tree replacements, commemorative planting or even as a surprise gift.
On request we can source most trees, regardless of size.
Root Pruning
Occasionally, tree roots can damage footpaths and pavements. In these cases we can prune the roots. However, if root pruning is likely to threaten the tree's health or stability, felling may be the only alternative.
Tree Lights / Tree Illumination
Spot lighting a single or group of trees will enhance a trees shape and silhouette at night and give your garden a certain soft relaxed atmosphere.
Surveys
We are able to undertake woodland surveys, and general health of tree survey.
Emergency Service
We provide a 24-hour emergency service to clean up any work that required immediate attention.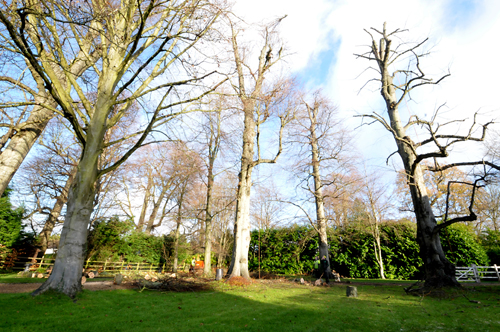 Contact us now
For all your tree surgery and associated needs in Surrey, Sussex and south London call us now on:
01737 844 974 or
07788 800 956.
Alternatively, send us an email at surgery@timgeorgetrees.co.uk
In an emergency, please call 07788 800 956
As tree surgeons in Surrey we are fully insured to carry out any job and all our worked is carried out by fully qualified staff - so if you have a small garden tree in your garden or a large woodland management scheme, we can help, just give us a call.
Some of our most popular services
Click the links below to see more information about our individual services: